Jan, I am not an expert in this area, but some of the instruments I believe existed in Hawaii before westerners and easterners arrived were nose flutes, rattles, drums and gourds for pounding. Actually, now that I think about it, I'm not sure when gourds were introduced to Hawaii. I think they arrived with the early Polynesian pioneers, but I'm not 100% certain about that.
Here are some pictures I took in the Old Hawaiian Hall at the
Bishop Museum
in Honolulu:
This first picture is a guy playing the nose flute and he's doing what my sister Robin taught me to do... close one nostril with your finger while you blow through the other nostril. Playing a nose flute feels very strange to me, even though I played the modern flute for a few years when I was young.
The ankle rattle below is made of dog's teeth and according to the card next to it these ankle rattles were worn in pairs by men and they could include the teeth of as many as 500 dogs.
I was introduced to the type of split bamboo rattles (pu ili) and feathered gourd rattles (uli uli) pictured below when I was about 6 years old and taking hula lessons. What I remember most about those lessons is making myself the comedy hit of the neighborhood luau by crossing my eyes and rolling my head during the "lolo" part of the hapa haole "Hula Lolo" (ah memories... "swing it right, swing it left, swing it all around...")
_______________
And here's a book written by basketry and gourd crafting instructor Jim Widess in 2002 that features illustrated instructions for making eighteen early Hawaiian musical instruments.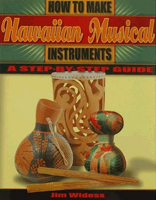 TITLE:
How To Make Hawaiian Musical Instruments
(Amazon.com)
AUTHOR: Jim Widess
PUBLISHER: Mutual Publishing
PUBLICATION DATE: October 1, 2002
BINDING: Paperback
NUMBER OF PAGES: 80
DIMENSIONS: 10.3 x 8.3 x 0.3 inches
__________________________
All of this information makes me want to learn more!
- Kathie